PREMIER RESIDENTIAL ALARM SERVICES: SECURITY SYSTEMS, BURGLAR ALARM SYSTEMS AND FIRE ALARM SYSTEMS
A BRAND NAME YOU KNOW AND TRUST.
If you live in the Tri-State area, chances are you have seen our Budd-Morgan Alarm Sign posted at the homes of your friends and neighbors. We have been providing residential alarm services with installations in thousands of homes since 1964. Our clients are from all walks of life, working families, Corporate Executives, Celebrities, Politicians and include all types of residences, from one bedrooms to one hundred room estates. We offer a complete line of services including:
Security Systems – Burglar, Panic & Duress
Fire Detection Systems – Complete Smoke, Fire & Heat Detection
Central Station Monitoring – Digital and Radio Back-Up
Environmental Detection & Monitoring -Carbon Monoxide, Gas, Low Temperature & Flood
CCTV Surveillance Systems – Digital Video Recorder Transmitters allow on site viewing and digital recording as well as secured viewing of your Home from any computer in the world!
EVERY BUDD-MORGAN ALARM SYSTEM IS CUSTOM DESIGNED BASED UPON YOUR SPECIFIC NEEDS, NO COOKIE CUTTER SYSTEMS.
We believe that the Security needs of one may not suit the needs of everyone, additionally homes are as different as people. That's why we here at Budd-Morgan Alarm know that you and your family deserve an Alarm System that was exclusively designed just for your home. A system that not only provides the safety and protection you need but a system that's convenient and easy to use. With today's active families, we know how important this can be.
WE PROVIDE THE FINEST HOME SECURITY INSTALLATIONS IN THE BUSINESS.
Budd Morgan specializes in high end custom designed residential security systems protecting all points of entry, backed up with interior motion detection. Unlike many competitors we are well trained in residential construction. This enables us to perform a neat and clean installation. We take pride in knowing the installation of your security system will be installed by a team of our experienced experts who treat your home with care and respect.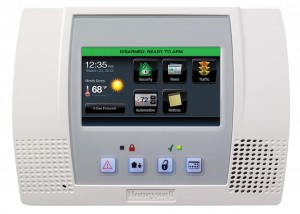 RESIDENTIAL INSTALLATIONS FEATURE:
Concealed wiring
Color keyed components.
User friendly English Keypads
Miniature security devices
Recessed and Flush mount contacts
Glass break devices
Pet immune motion detectors
Keychain remote option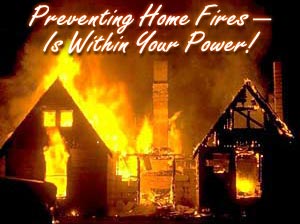 Protecting your Home and Family is our Highest Priority.
Did you know that a Burglary is committed every 15 seconds? Burglary isn't our only concern when it comes to protecting your home and family. We also offer a complete line Smoke Detectors, Carbon Monoxide Detectors, Gas Detectors, Flood Detectors and Low Temperature Warning Detection systems.
Beware of so called "Free" Alarms
Many service companies today have started marketing home security to their residential customers. Many of these companies have little or no experience in the security industry and advertise "free" installation. We all know that in today's world, you get nothing for nothing. What you do get with these so called free installations are sub standard alarm systems that provide a false sense of security, long term contracts, over priced monthly fees and in some cases a lien on your home. Avoid the trap and give us a call, we offer low cost starter systems that provide a real Security System that you can expand on.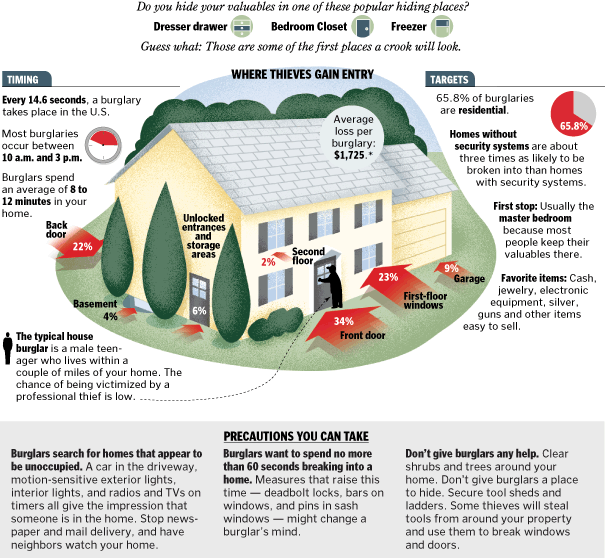 SOURCES: Bureau of Justice Statistics; FBI Uniform Crime Reporting Program; Dr. Simon Hakim, Temple University; GRAPHIC: Brenna Maloney and Laura Stantion – The Washington Post
Call Today to meet with a Knowledgeable and Friendly Alarm Designer for a Free Consultation 1-800-439-3131